Hot Water Systems
JD Marx installs efficient boilers and tankless water systems offering the highest in hot water efficiency.
"The first contractor we used to install our hybrid system didn't do the job right, and we didn't even realize our heat pump wasn't heating for a couple years. Only the furnace was heating and propane is expensive. Now we have the right thermostat, and are system is working correctly. We highly recommend JD Marx." - K. Boudreau
Tankless Hot Water Systems
Most people know what it's like to run out of water at the wrong time. Whether it be the entire family getting ready for an event, or company in town, running out of how water is just not that much fun. With a tankless water heater you will never run out of hot water again! Unlike a traditional boiler, a tankless water heater is exactly what it sounds like: it has no tank. Water is heated instantly by intense flames on demand, whenever you need it. No more running out of hot water, and no more paying to heat water when you're not even home or awake!
JD Marx is a professional Syracuse and Central New York tankless water heater installation company. We based our Syracuse tankless systems on the Rinnai® product line as Rinnai has proven to be a leader in the manufacturing of both tankless and traditional hot water systems for residential customers.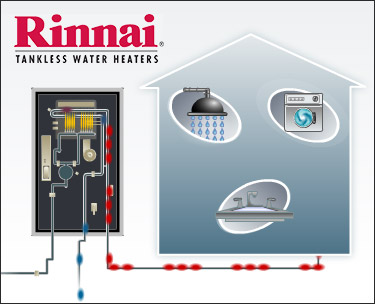 Rinnai® Tankless Water Heaters
1) When opening a hot water tap, or starting the dishwasher, the Rinnai tankless water heater recognizes the need for hot water and starts the heating process.
2) The temperature of the incoming water is used to calculate how much heat the burners must produce to deliver water at the desired temperature.
3) When the demand for hot water ceases the unit shuts down and uses no energy, waiting until more hot water is needed.
4) The end result -- hot water that is not limited to what's available in your tank. You always have clean, hot water when you want it for as long as you need it!
Call JD Marx at (315) 461-0032 for more information!
Gas Boilers with high AFUE ratings
There is nothing like stepping into a hot shower and having plenty of hot water even when guests are in town. With quality gas boilers from JD Marx you can have more hot water for less money that you could with boilers of the past!
JD Marx offers a range of efficient gas boilers with AFUE ranges up to 95% that are Energy Star® certified and feature stainless steel heat exchangers and super quiet operation. The gas boilers are natural gas or propane, and some models quality for Federal tax credits.
Call a leading Syracuse and Central New York contractor today at (315) 461-0032 for additional information on what boiler is right for your specific needs.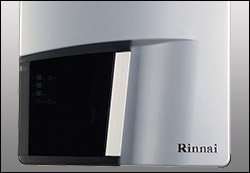 JD Marx serves Syracuse and all of Central New York. We service any make and model including (but not limited to):