Heating & Air Conditioning Products
Efficient and reliable HVAC products for our Syracuse and Central New York customers.
"The first contractor we used to install our hybrid system didn't do the job right, and we didn't even realize our heat pump wasn't heating for a couple years. Only the furnace was heating and propane is expensive. Now we have the right thermostat, and are system is working correctly. We highly recommend JD Marx." - K. Boudreau
JD Marx Heating and Air Conditioning has been in the business of making Syracuse and Central New York customers comfortable since 1999. We are experts at indoor comfort control, and we are dedicated to providing our customers with the best. For this reason we offer Carrier® equipment for our HVAC installations. In fact, JD Marx is a Syracuse Carrier® Factory Authorized dealer which is an elite status with the manufacturer that exemplifies our dedication to technical excellence and customer service! See general descriptions of the HVAC products we offer below, or simply call us at (315) 461-0032 for further information!
Air Conditioner
An air conditioner sits outside your home and chills refrigerant during the cooling season. The chilled refrigerant is then sent inside to the indoor coil, and warm air from your home is forced through the chilled coils. Air conditioning efficiency is measured by a Seasonal Energy Efficiency Rating (SEER).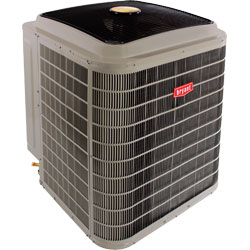 Heat Pump
An air source heat pump operates just like an air conditioner except it has the ability to also heat refrigerant in the heating season by reversing the cooling process. When heating, a heat pump extracts heat energy from outside air, and uses this to heat the refrigerant, sending the heated refrigerant back inside to the indoor coil.
Thermostat & Zoning
A modern thermostat is much more than a mere switch to control the temperature. Thermostats now offer advanced features such as switching between heating sources depending on fuel cost, remote access, 7-day programming, and more. Zoning allows individual control over different areas of your home for increased comfort and energy savings.
Gas Furnace
A gas furnace is the king of providing toasty warm air during a cold Syracuse winter! We offer Carrier gas furnaces with very high AFUE (efficiency) ratings and Greenspeed technology. You'll experience quiet comfort and high efficiency like never before!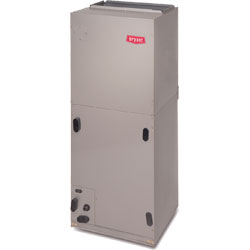 Air Handlers / Fan Coils
When using a traditional split system, the furnace fan is used in the cooling season to force air through the evaporator coil and into your home. A fan coil is basically the combination of an evaporator coil and a furnace fan motor, and is used in the absence of a gas furnace (when you are using a heat pump).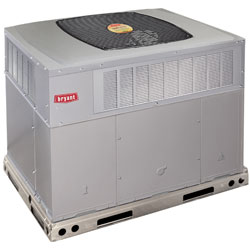 Packaged HVAC System
When space is limited, a packaged HVAC system can be the ticket. Packaged systems can include a furnace, air conditioner or heat pump all in one big, you guessed it, package. They are typically not as efficient (for residential) as a normal split system, but are ideal for space constrained environments.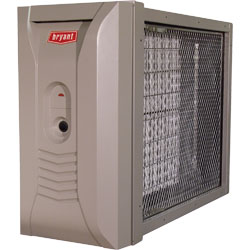 Indoor Air Quality
Indoor air quality is a common buzz word in the HVAC industry - but for good reason. Modern buildings are built to be energy efficient, but this traps toxins, mold and other indoor pollutants inside, cycling them into every part of your home. Indoor air quality products integrate into your HVAC system to purify your indoor air.
Indoor Air Quality
Evaporator Coil
An evaporator coil is also called an indoor coil. It contains the copper tubing that an air conditioner sends refrigerant to. Air is pulled from your home via the return air duct, and then forced through the evaporator coil to cool in the summer season. UV lamps keep an evaporator coil free of the efficiency reducing mold that can grow on the coils.
JD Marx serves Syracuse and all of Central New York. We service any make and model including (but not limited to):